The links below will change periodically.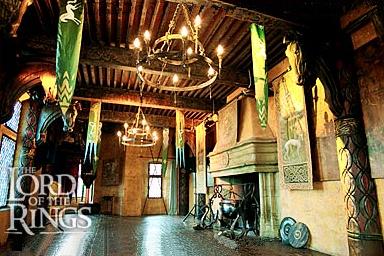 Interior of the Golden Hall.
Search Engines
AltaVista The Internet's original search engine.
Lycos One of the most visited hubs on the Internet reaching one out of every two web users.
Yahoo! With over half a million sites divided into more than 25,000 categories, Yahoo! is both browseable and searchable.
InfoSeek GO Network is a new brand that brings together the very best of the Internet in one, easy to use place.
Favorite Sites
Alleycatscratch A wonderful site devoted to the costumes of Lord of the Rings.
LotR costume group Great discussion board on the costumes.

Sam's Costume All about Sam.
Movie Costumes Great site for Lord of the Rings and other various movie costumes.
House of Anoria Details of Aragorn's Council suit.
Historical Costume: Fantasy Good site in German with English translations.
Council of Elrond Check out The Last Homely House for decorating tips!
Fantasy Planet Czech site with amazing pictures. Non-english.
Quintessential 'Lord of the Rings' website Thousands of Lord of the Rings movie pictures. Good for costuming and decorating.